Here are some links to key fobs, split rings and purse straps you could use in your crafting! Keep in mind that these items ship from overseas so they may take a week or two, or longer, to arrive. These are affiliate links and I may receive a commission if you purchase using these links.
Braided key rings add a perfect touch to a fob or zipper bag
Colored carabiner rings with ball chains
Ball chains in colors from here, here, or here
Colored heart carabiners with matching split rings
Lobster clasps for snap tabs – the size you want on these (for DLB snap tabs, anyway) are the ones with the INNER diameter of the D-ring that is 20mm. Look at the measurements carefully before you purchase.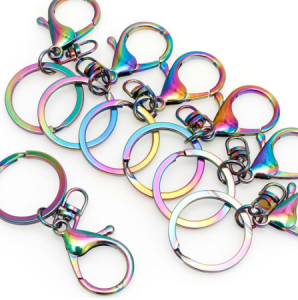 Large lobster clasps in rainbow metal
These large lobster clasps are my favorite to use with eyelet cases like hand sanitizer, headphones, etc. because you can hook and unhook them easily to retrieve what's in the case.
Silver, gold, or bronze large lobster clasps
Colored clasps with binder rings (the kind that open up wide with a hinge, like the rings of a school binder)
Metal cable key rings – these bend into a circle and screw securely together. I show one in the gift card holder project.
Star split rings with a matching colored clasp
another star split ring with clasp
Split rings in multiple shape – these come in silver, bronze, and rainbow styles
Colored heart carabiner with split ring and heart cutout tassels
Macrame-style key fobs just because I thought they were cute and would look adorable with a zipper bag!
..and a few purse/zipper bag straps in fun, pretty patterns!
..a few more.