If this blog convinces you to take a dive into the wonderful world of Embrilliance, I'm honored if you use my affiliate link to make your purchase! It's included in the links below, but here it is is in full: www.embrilliance.com/jamaffiliates/honeybeedlb
One of the great features of Enthusiast (another module of software from Embrilliance that does some cool little tricks!) is called knockdown stitching. Although it's perfect for fabrics with a pile such as terry cloth or fluffy baby minky fabric, it can also be used to reduce the noise on a design with a very busy pattern. When you see someone ask what's the best color to monogram  anew Vera Wang bag, or camouflage backpack, tell them how much a solid near-fill background would help behind that monogram!
I used knockdown recently to make some small blankets for my boys. We were embarking on an airplane trip to Orlando early in the morning (I mean so early, it felt like late at night instead!). I knew it would be cold and they'd be in their jammies and sneakers, so against my better judgment (can you say Project Hoarder?) I picked up some of this amazing fluffy fabric and Disney character fleece at JoAnn in the remnant bin. I figured, it was cheap, so if I screwed it up, no biggie.
First, I opened my software and chose a font for the name. Shown is Pharmacy font that I purchased from Jolsons.
Then, click Utility, then Add Knockdown Stitching.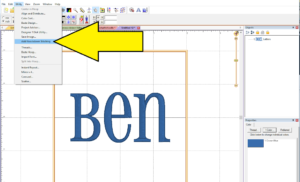 Did you see that?? It really was that easy!
Now you have the choice of stitching in the same color, or a contrasting color. For my blankets, I obviously wanted each name to stand out, so I stitched the knockdown in white:
Then names in a blue to match the Disney fleece side:
That's IT!!
Well, I'll be darned if I didn't do a great job! Now, don't make fun of me for being so excited to sew squares. Y'all – I cannot sew. I like to say there's a reason why I embroider. I can only sew a straight line like for an elastic casing or to close up an ITH project. So this project – with fleece, no less! – felt like a huge accomplishment. Another thing I loved was that, because I sewed them from scratch, the stitching isn't visible on the back. That's not a dealbreaker for me, but it is nice when you can accomplish it.
I made them in a very small size – approximately 36″ long – so they're great for a "lovey" type security blanket, perfect size for a small child's lap in the stroller, and easy to fold twice and toss into a bag.
Here's a pic of Ben, snuggled up in his blanket and ready to fly!
What's more, my boys love these little "airport blankets." I really figured they'd be used once then tossed aside, but both boys sleep with their blanket every night! Doesn't it warm your heart when the recipient of your project really loves what you made? I know it does mine.