Disclosure: This blog contains links to my Amazon Associates affiliate page, and any purchases you make from that page may result in Amazon store credit for me. As always, I would never recommend something that I have not personally used and/or would not purchase with my own money.
We get a lot of questions about eyelets. Here is a super-quick intro to the wonderful world of eyelets!
There are two common sizes: 3/16″ and 1/8″ (this is diameter).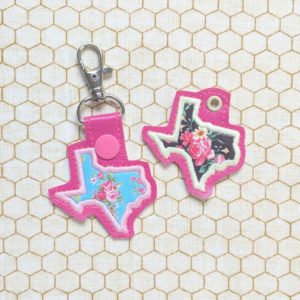 I use 3/16″ for my fobs and 1/8″ for earrings. Crop-a-Dile will cut a hole and set for both of these sizes specifically. 
There are also questions about eyelets that come with "washers" which is the littler piece that goes on the other side of the eyelet to give it a cleaner finish. Personally, I do not use the two-piece eyelets. I don't find the "flowering" of the back of the eyelet when it's smashed to be an eyesore. Here is an example of a two-piece kit.
I have found a decent selection of 1/8″ eyelets at Michaels. I've found a box with a decent selection of colors for 3/16″ at
JOANN Fabric and Craft Stores
(notions section, with snaps/rivets/etc.) But I also get some from Amazon and some from
Eyelet Outlet
. It just depends on what mood I'm in, but I've been using a lot more these days with eyelet projects being so popular.
This set from American Crafts is great quality but note that the colors are not primary, they're more artsy like pastels and earthy colors.
Here is a my blog specifically about using the Crop-a-Dile with eyelets.